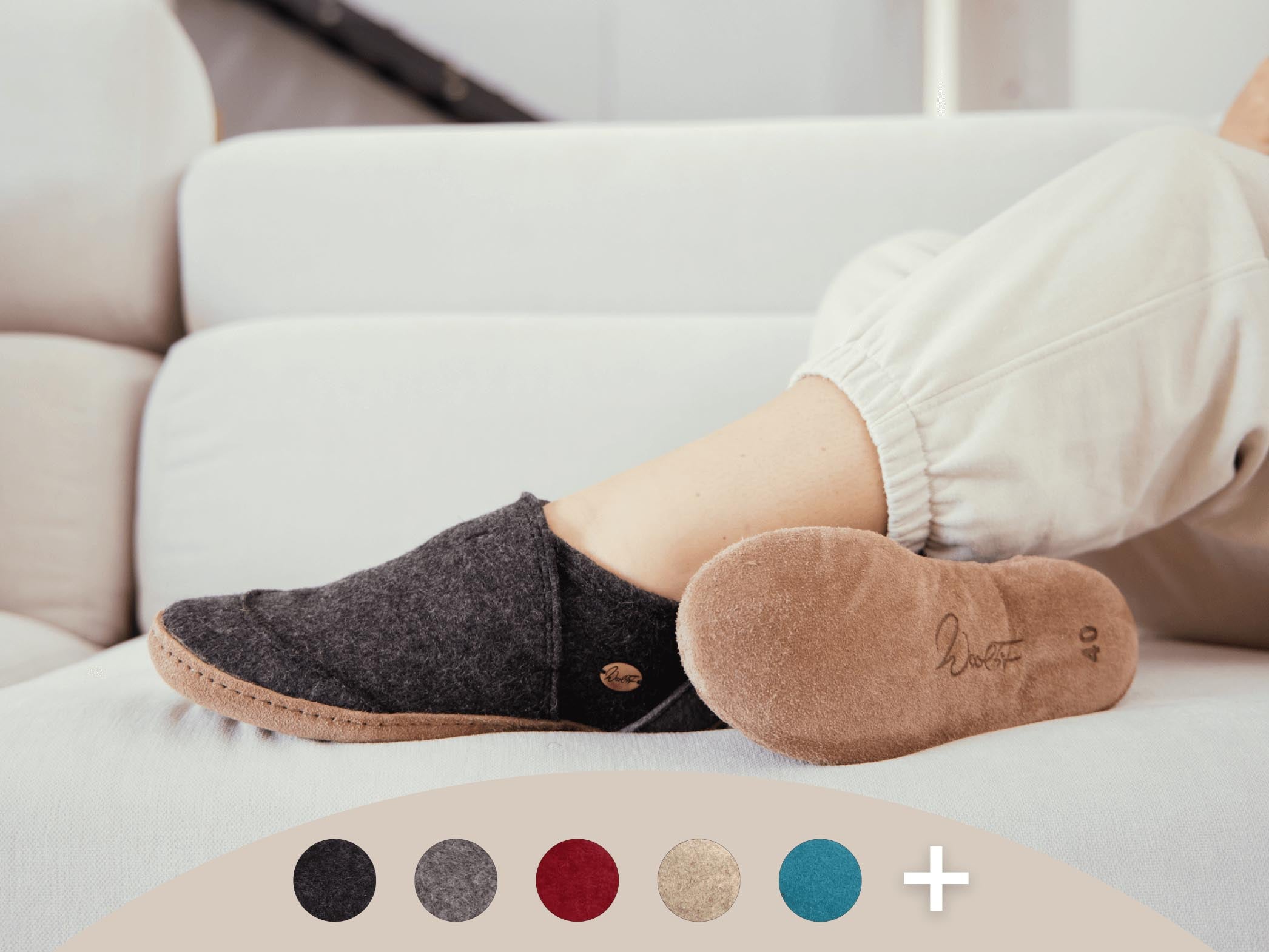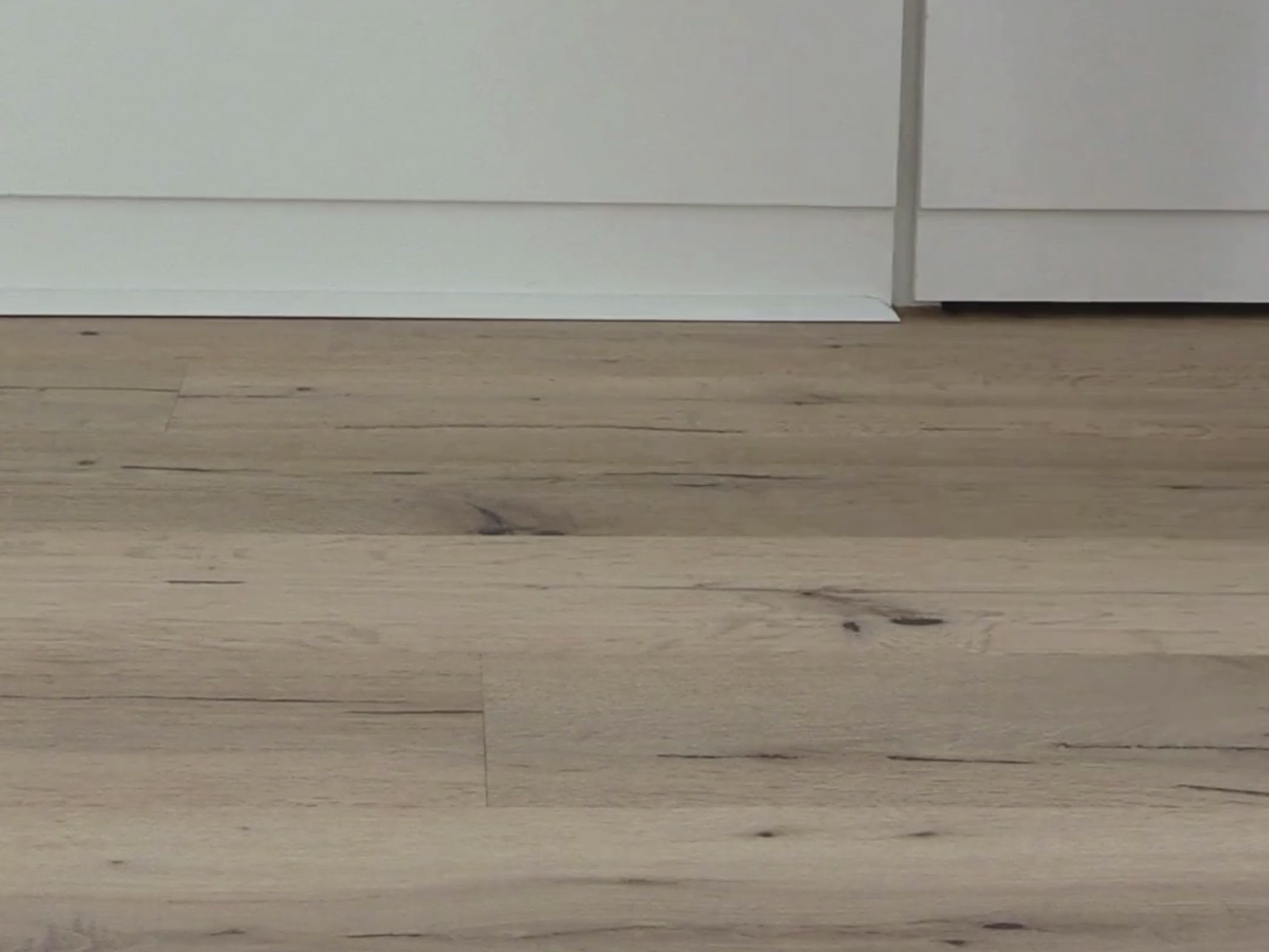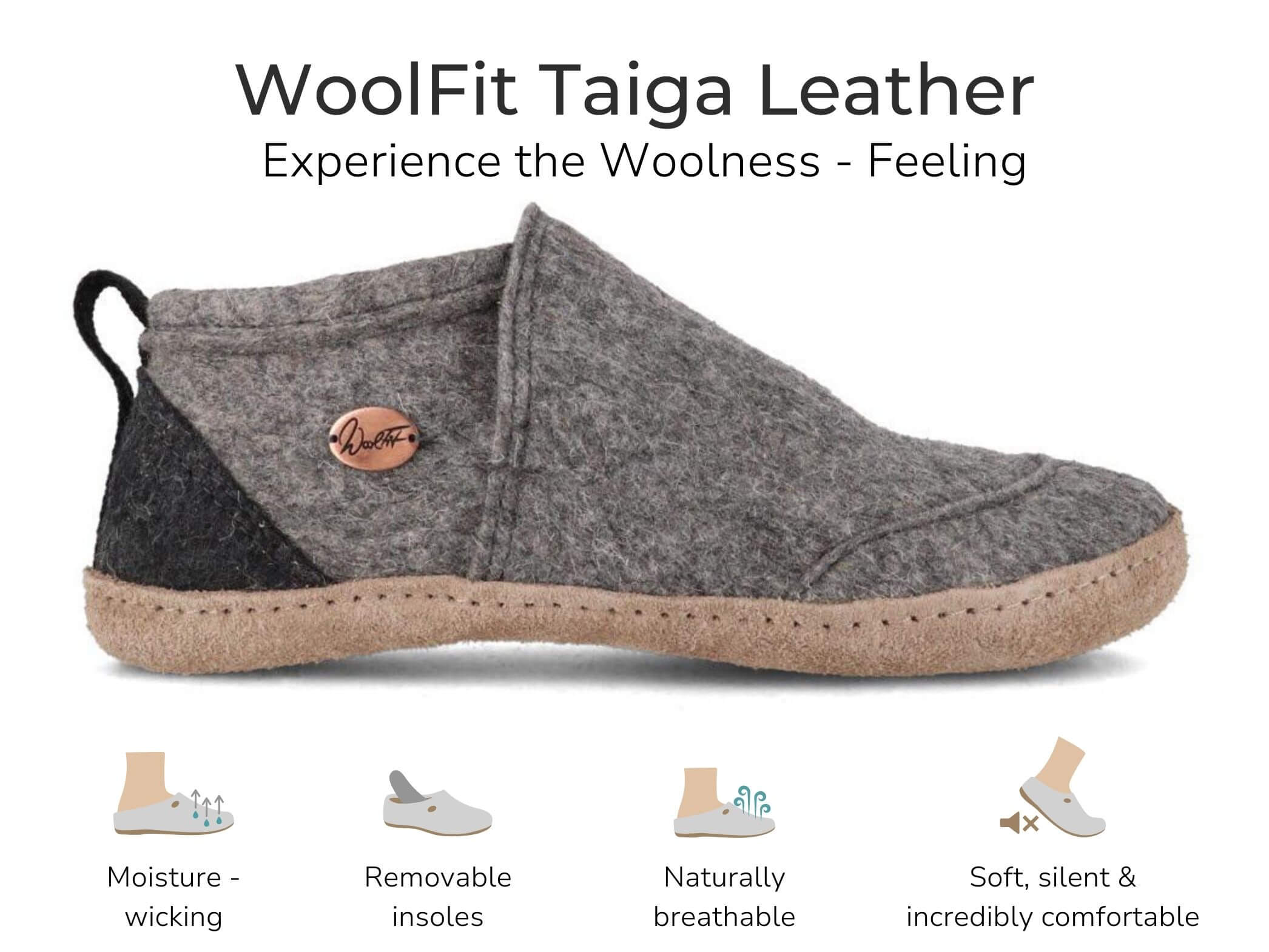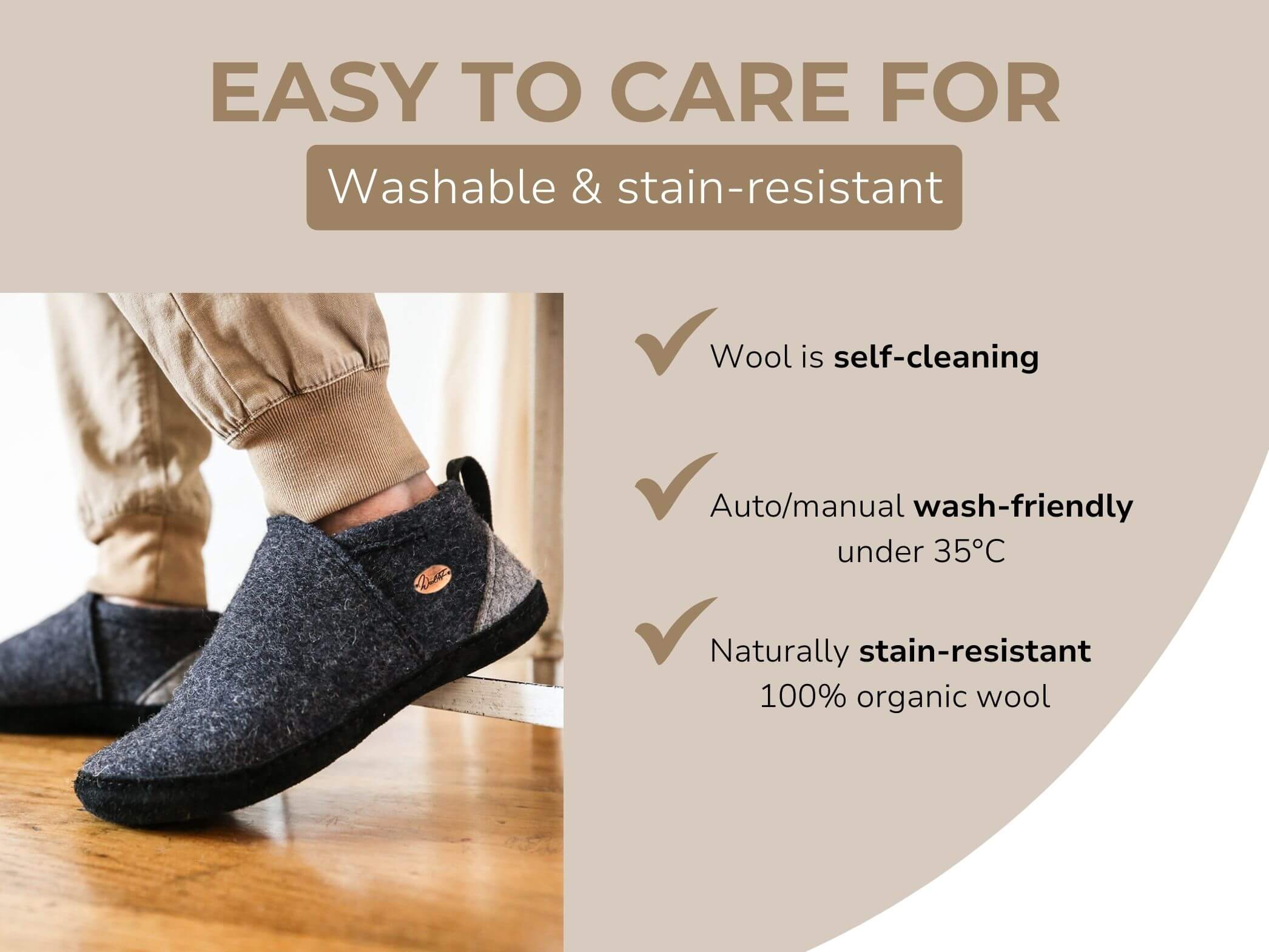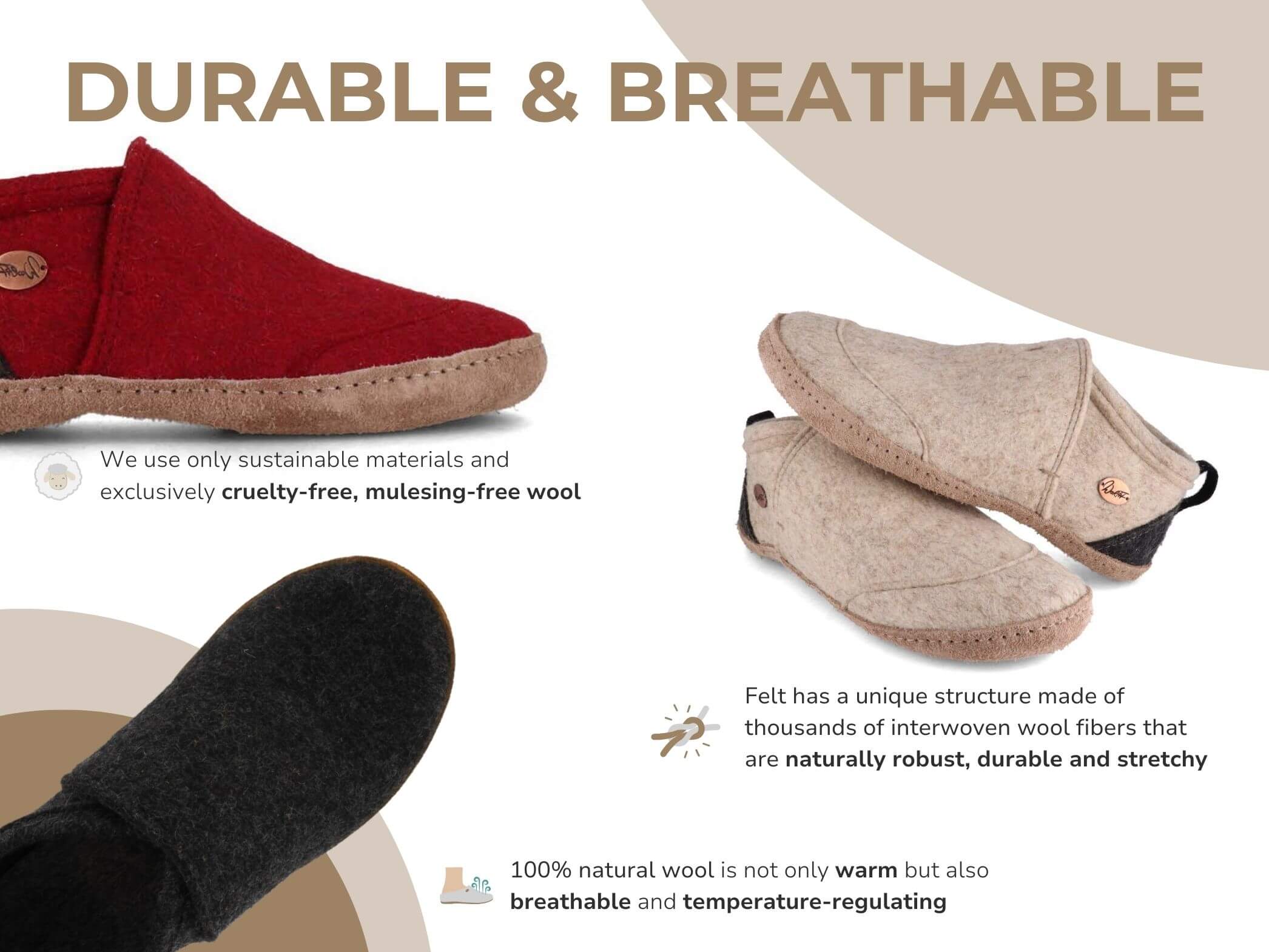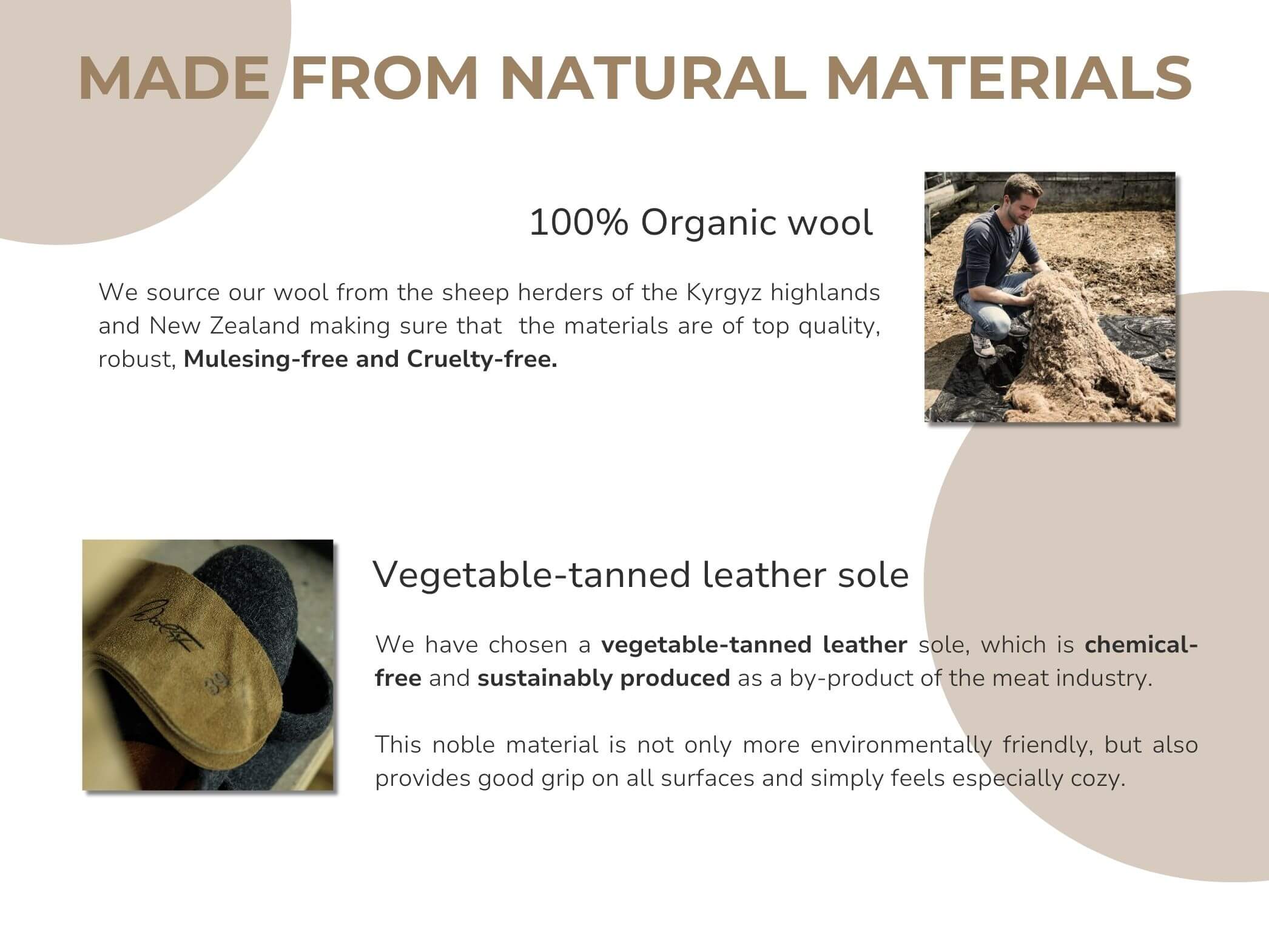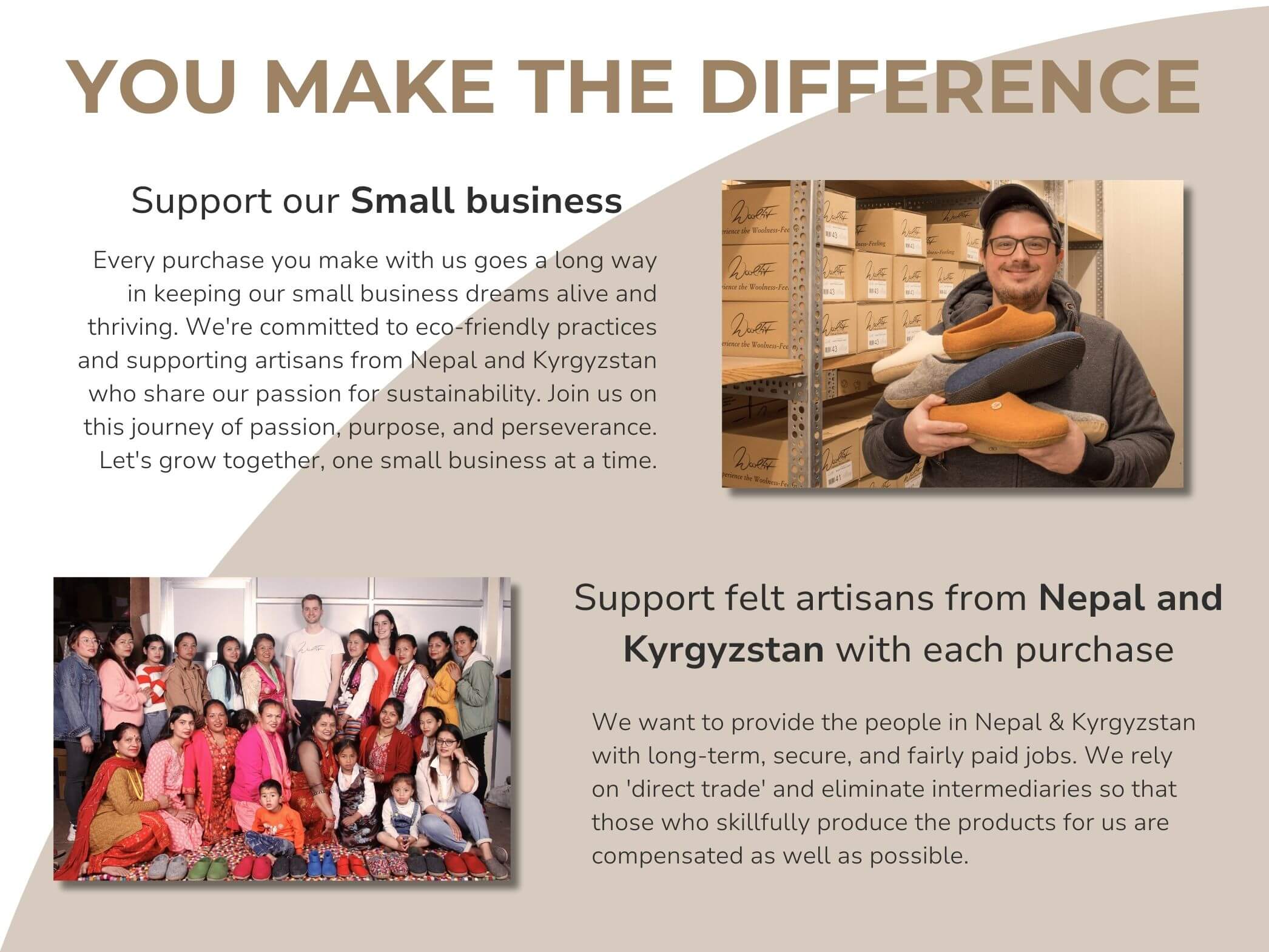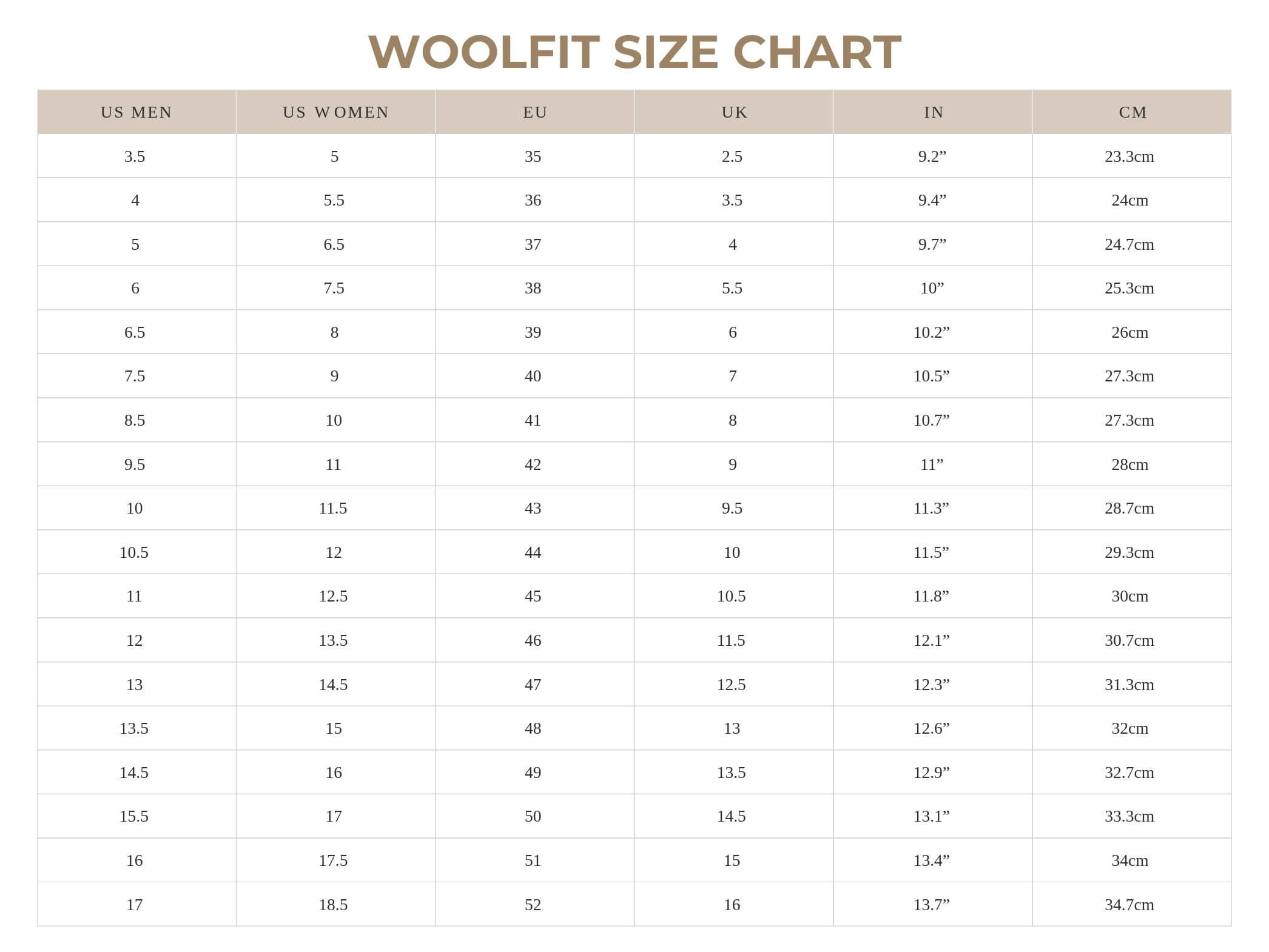 Taiga Leather Sole
Home Office Slipper Boots with Insoles
100% wool felt: warm, yet breathable.
Removable insoles made of wool felt.
Leather outsole: light, sturdy & flexible.
Arch support: Light arch support
This is why you'll LOVE them too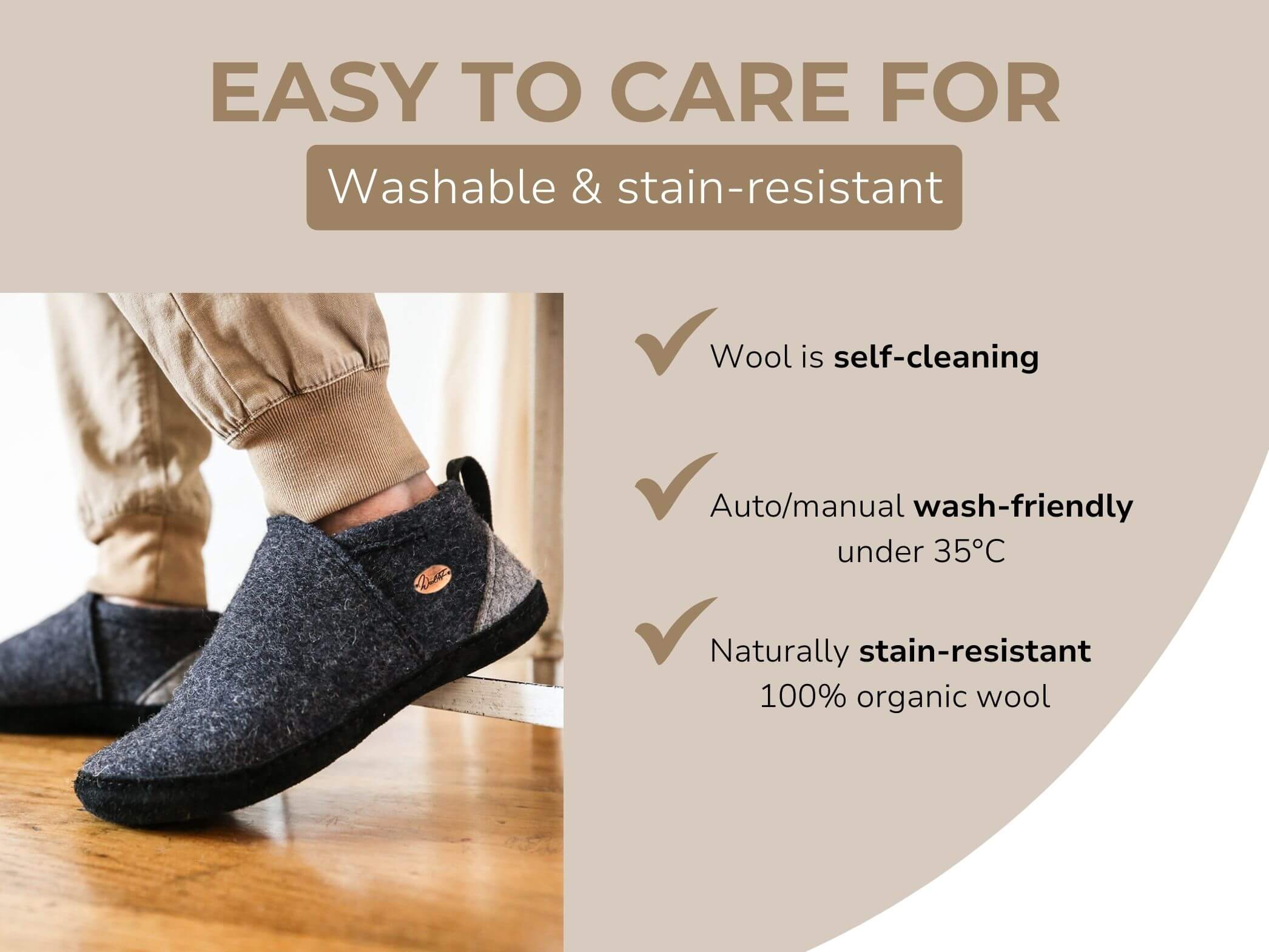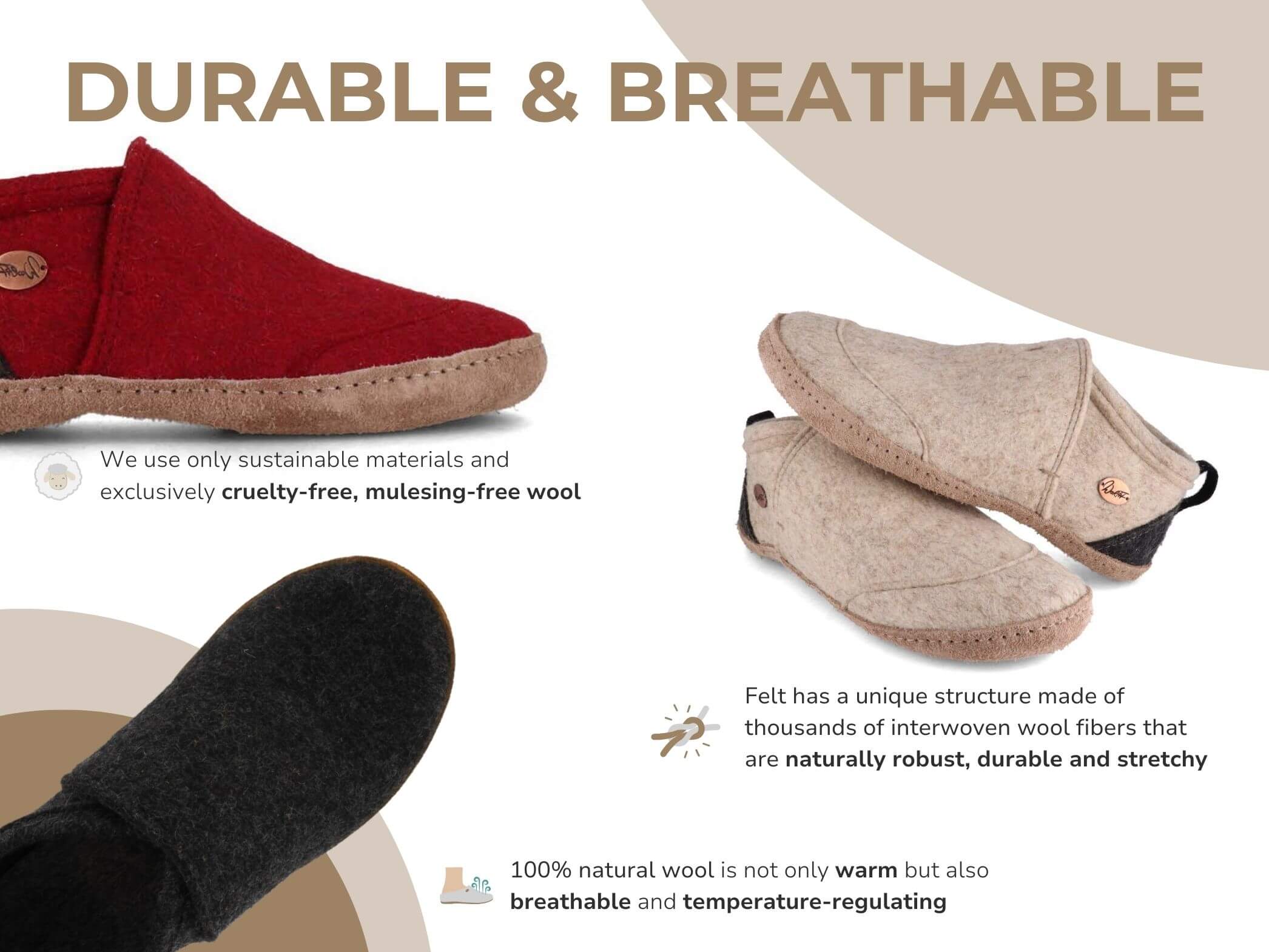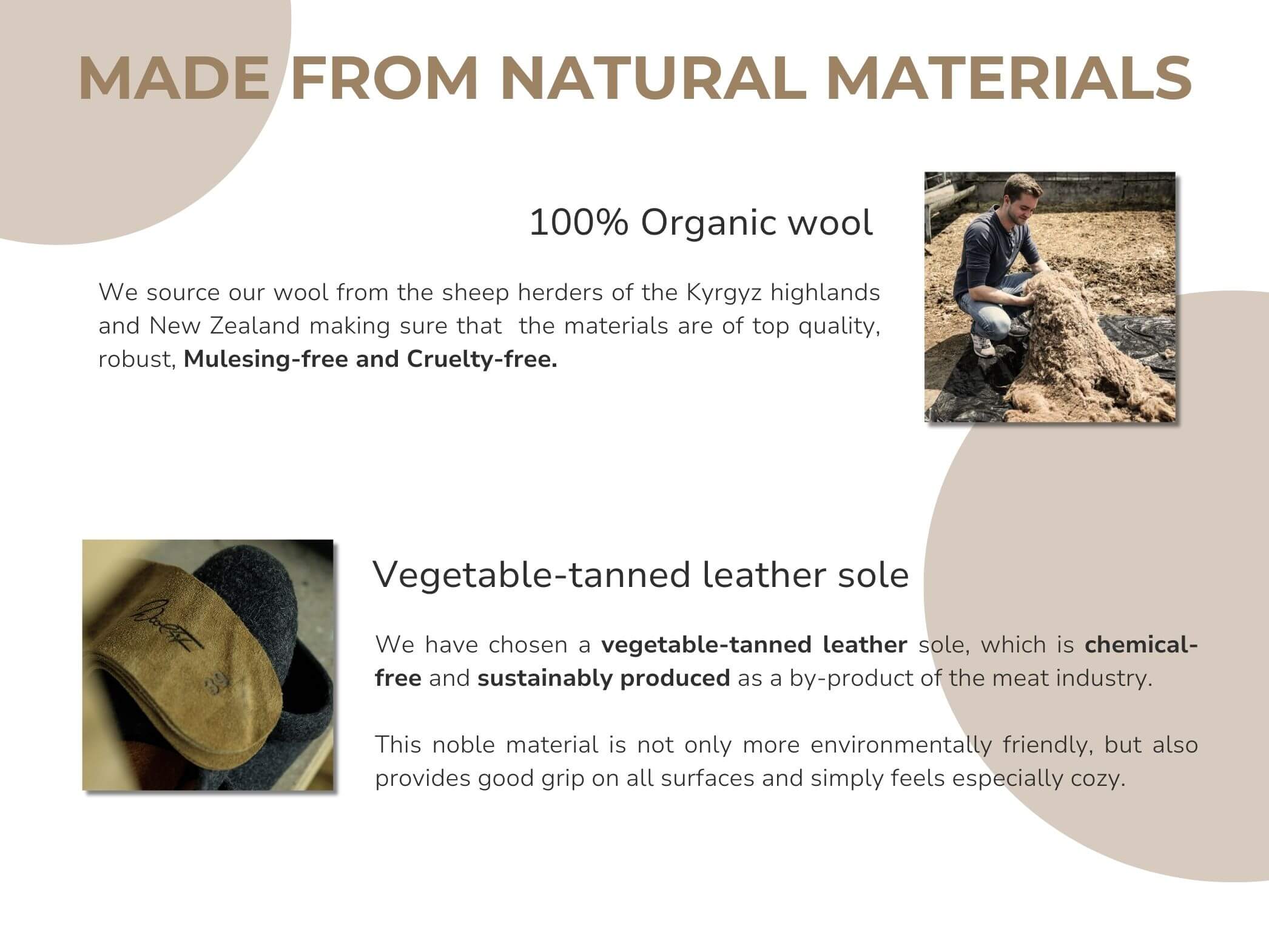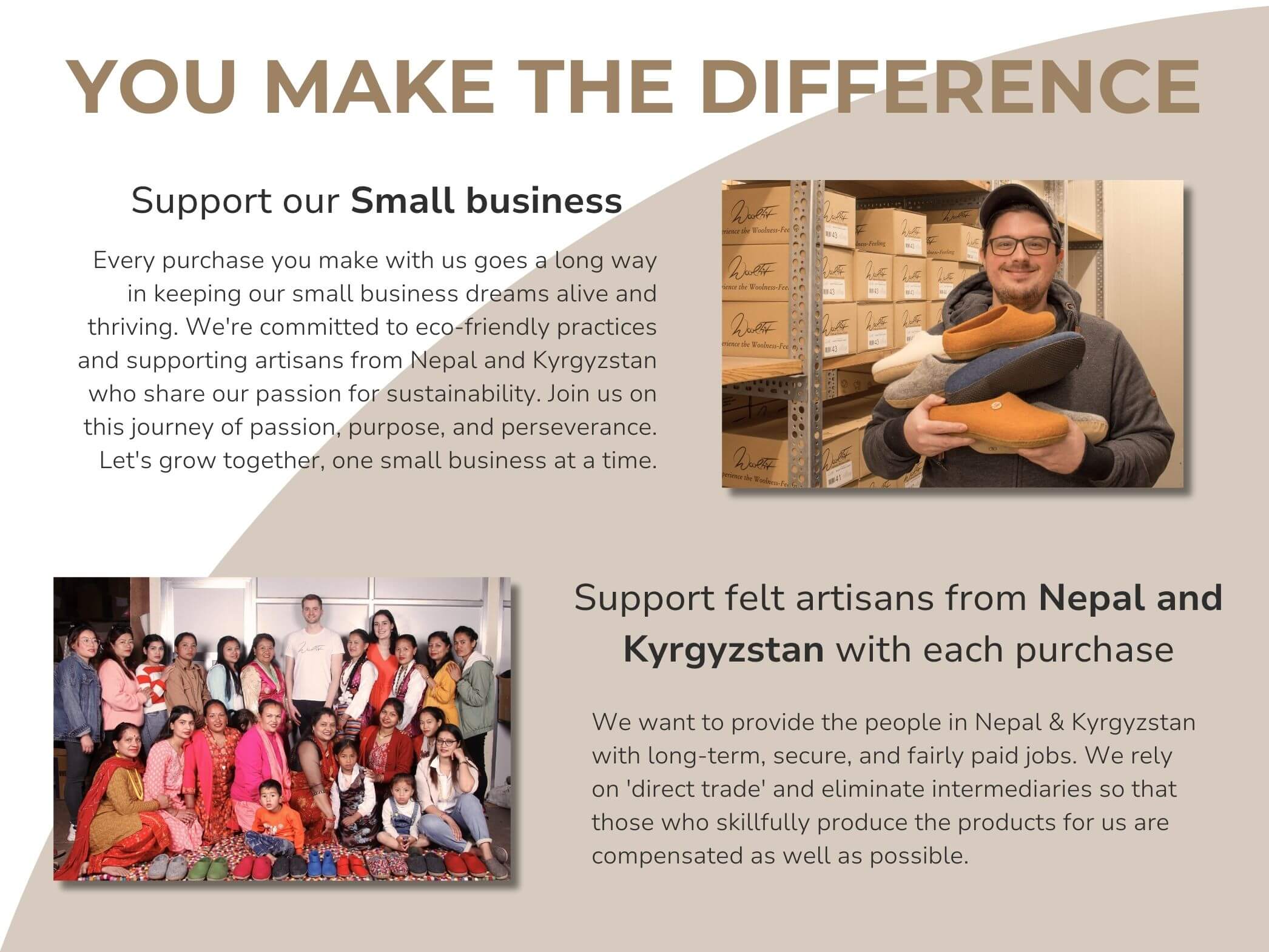 High-top slippers made of 100% felt - perfect for working from home
High-quality felt made of 100% pure wool
Breathable & temperature regulating
Easy to put on with heel loop
Perfect & secure fit thanks to elastic band, without causing discomfort
Removable insoles made of soft felt
Sole made of vegetable-tanned leather, without the use of chemicals
Antistatic leather sole - no more electric shocks
Fair, sustainable & completely plastic-free production
With your purchase, you support our Kyrgyz felt artists who handcraft these slippers for us in a traditional way. We place great value on fair working conditions and fair pay, well above Kyrgyz standards.
We prioritize sustainability and use no plastic in the entire production process. We also ensure that all materials used are biodegradable. Additionally, the leather sole is tanned solely with vegetable materials (without the use of chemicals).
Extra-strong wool from the Kyrgyz highlands
The wool itself comes from local Kyrgyz sheep herders near the production site. The harsh highland conditions make this wool perfect for creating robust felt. Natural wool felt reliably keeps your feet warm while still allowing them to breathe. The breathable material regulates temperature and automatically transports excess heat and moisture outwards.
Soft cushioned insoles made of felt
The included insoles are also made of natural wool felt. They provide a soft cushioning effect for a comfortable walking experience that lasts, even after prolonged wear. If desired, they can be easily removed by hand and replaced with your own insoles.
Veg-tanned sole made of cowhide leather
The sole is made of cowhide leather that has been tanned using vegetable materials, without the use of chemicals. Despite its light weight, this resilient material offers high durability. It provides some flexibility for unrestricted, natural movement of the foot soles. This ensures maximum comfort even after long periods of wear. The rough surface of the leather provides the necessary grip and stability on any type of flooring.
What makes the WoolFit Taiga the perfect home office slipper?
In the home office, it is important to be able to concentrate on work without constant distractions. Cold feet are not only uncomfortable, but can also be a major distraction from work. The same goes for uncomfortably warm and sweaty feet. Our felt slippers provide a warm yet breathable environment for your feet, ensuring a consistently comfortable foot climate.
The high-top design ensures a snug fit around the foot and ankle for warmth and comfort. The elastic band provides a slightly tighter and more fitted feel, making it look neater and less slouchy than a traditional slipper.
The result: you'll feel more dynamic and productive.
Antistatic: especially in an office setting, the body tends to accumulate static electricity. When you touch something metal, you often get a shock. The vegetable-tanned leather sole ensures that the static charge is discharged through the floor, making electric shocks a thing of the past.
Our Taigas are the perfect gift to spruce up someone's home office.