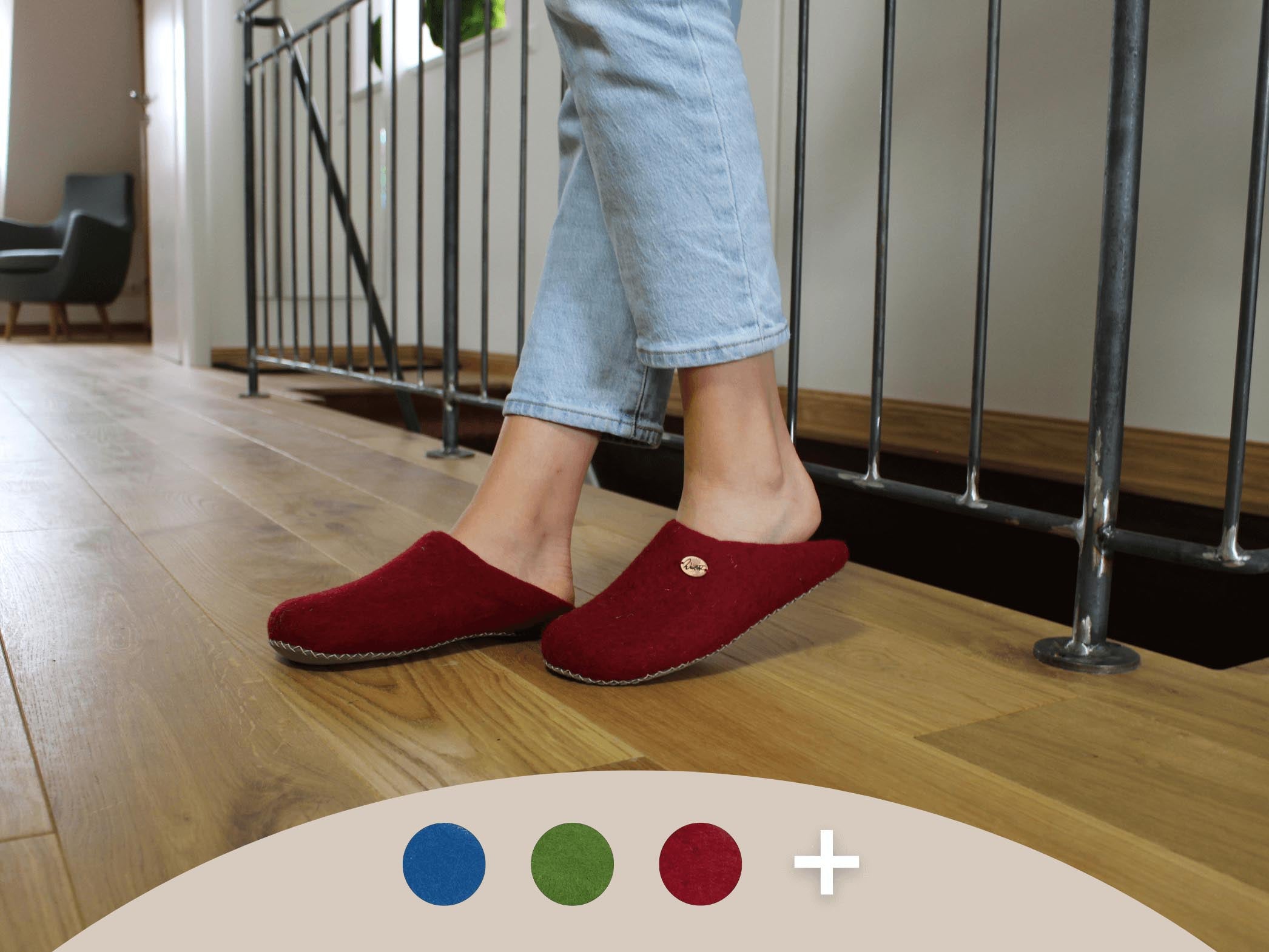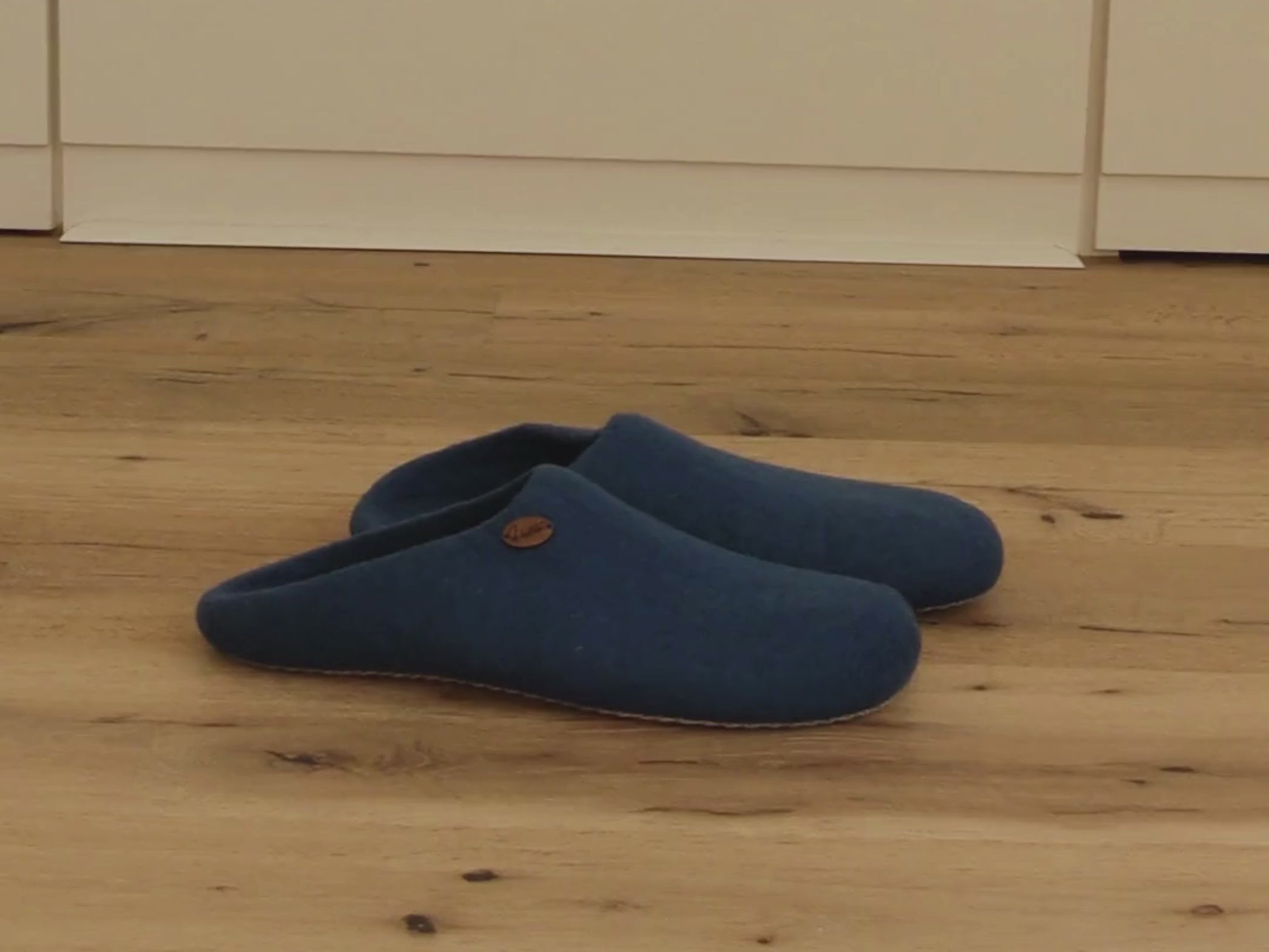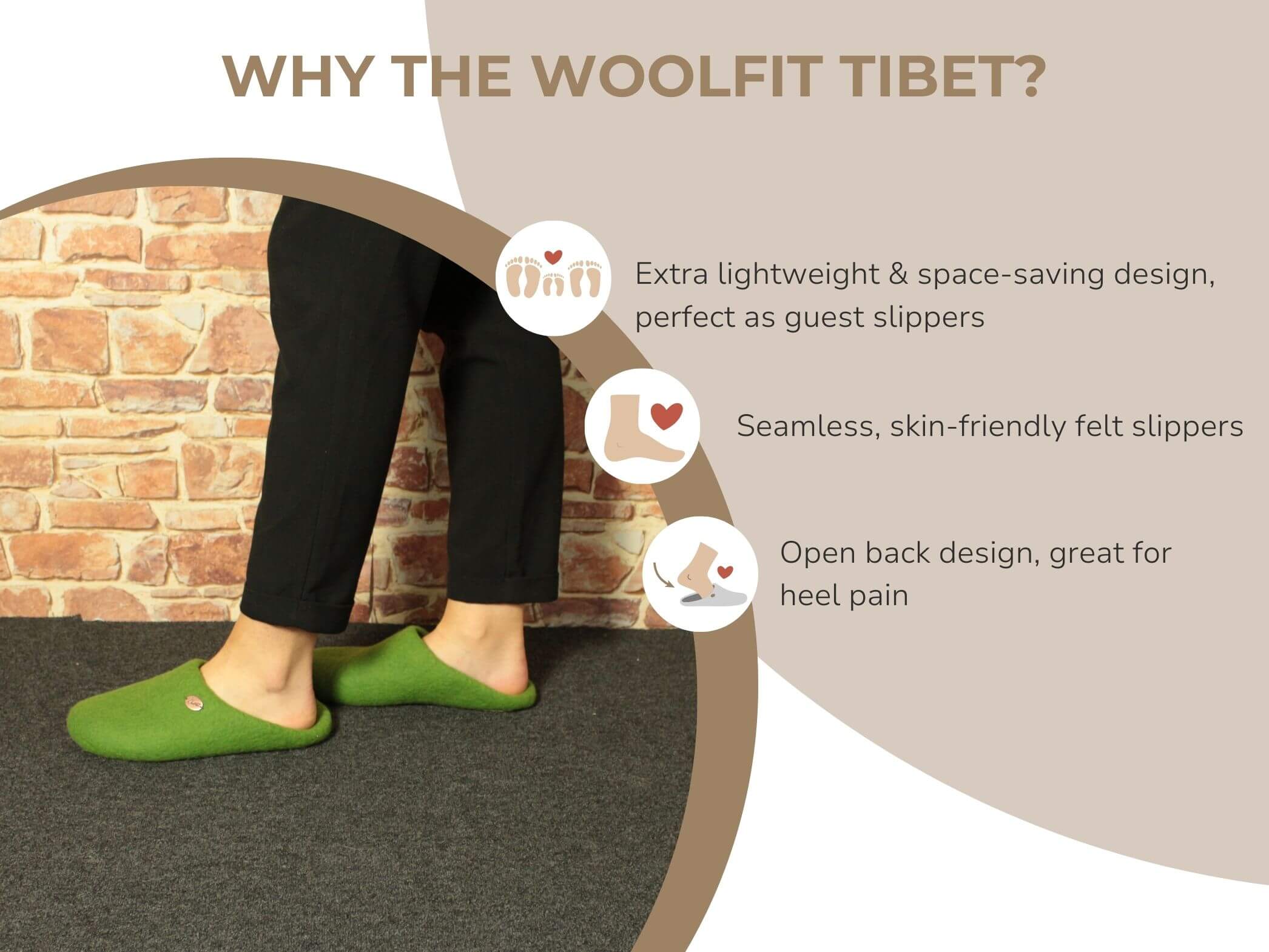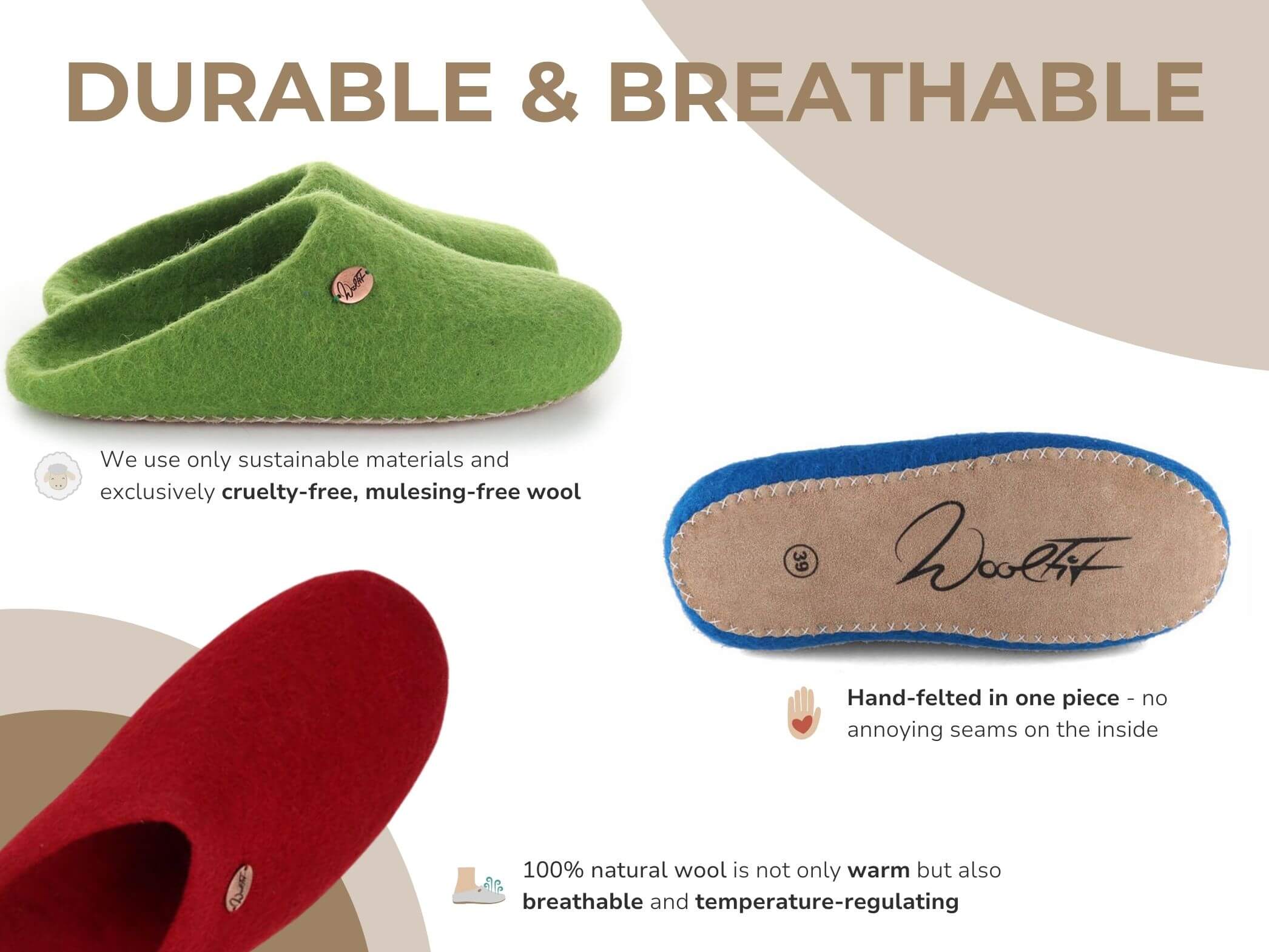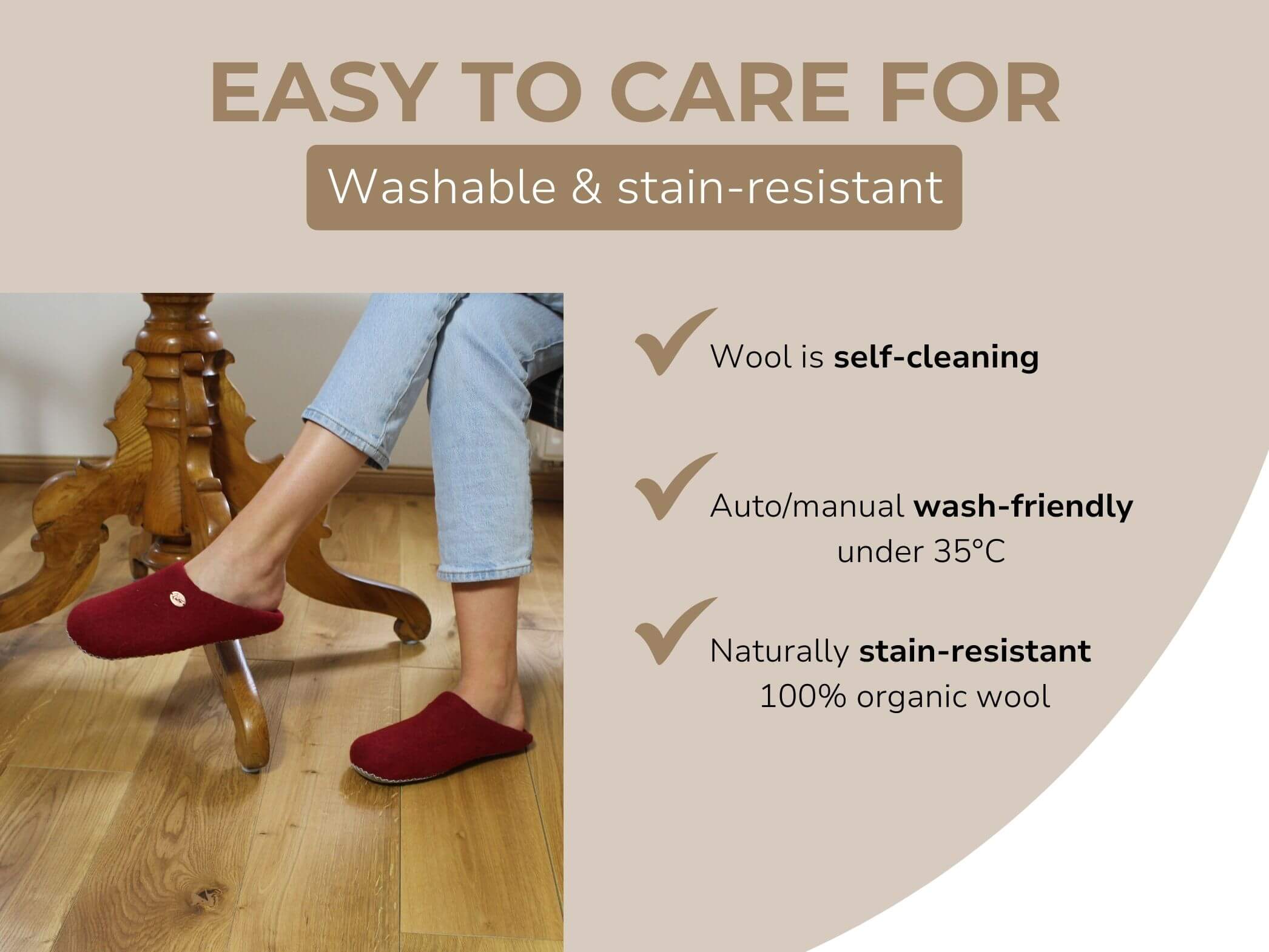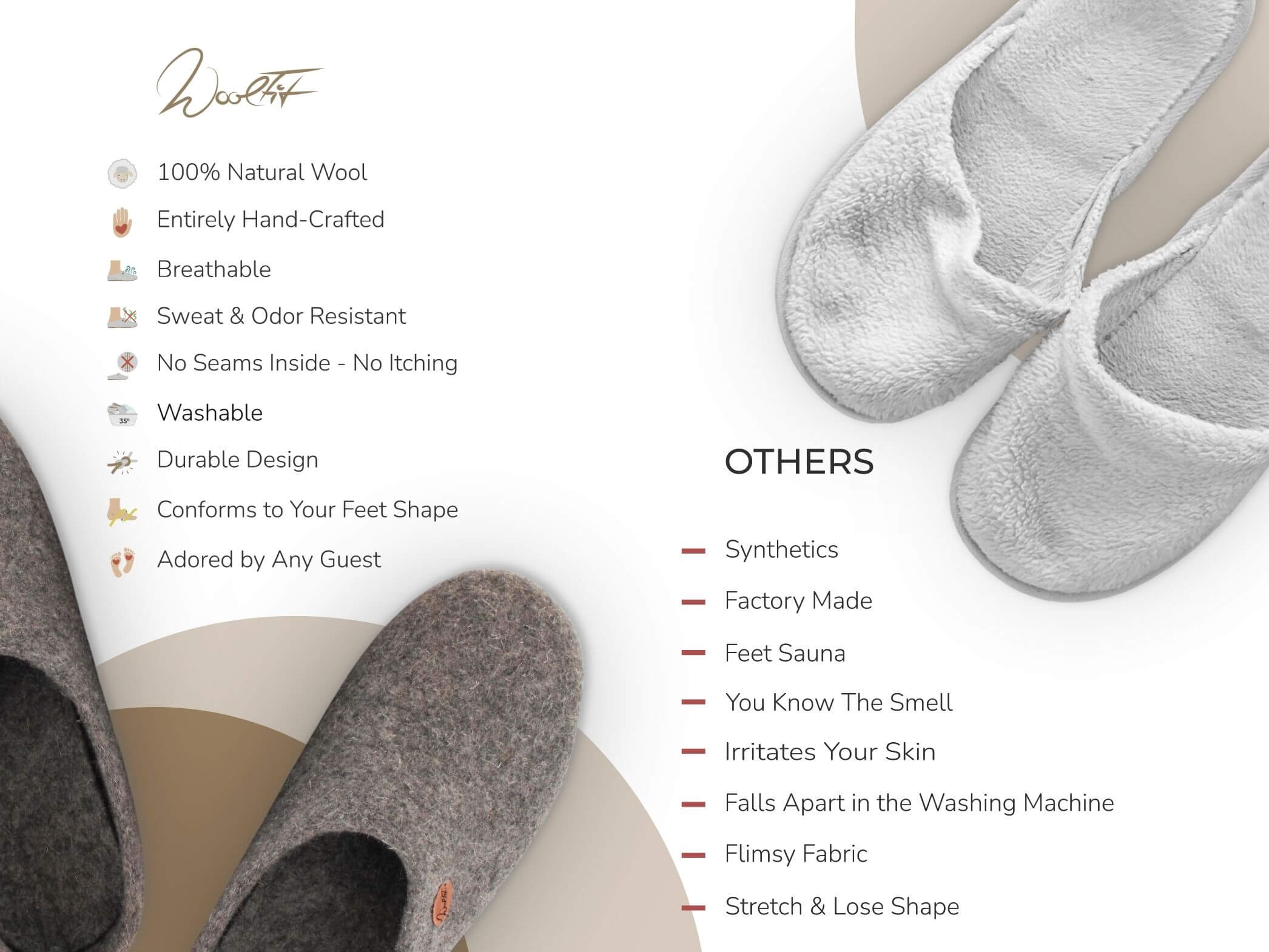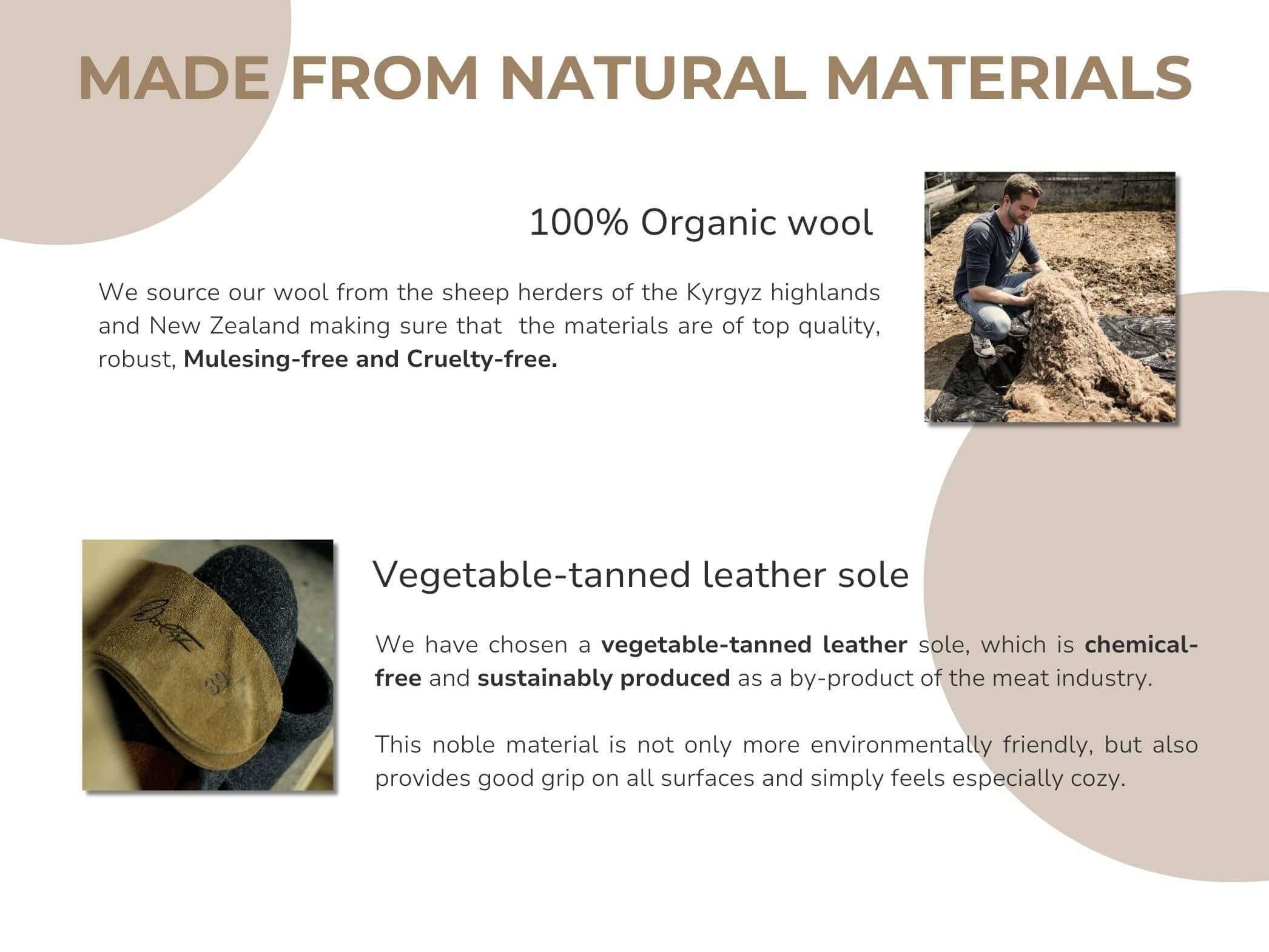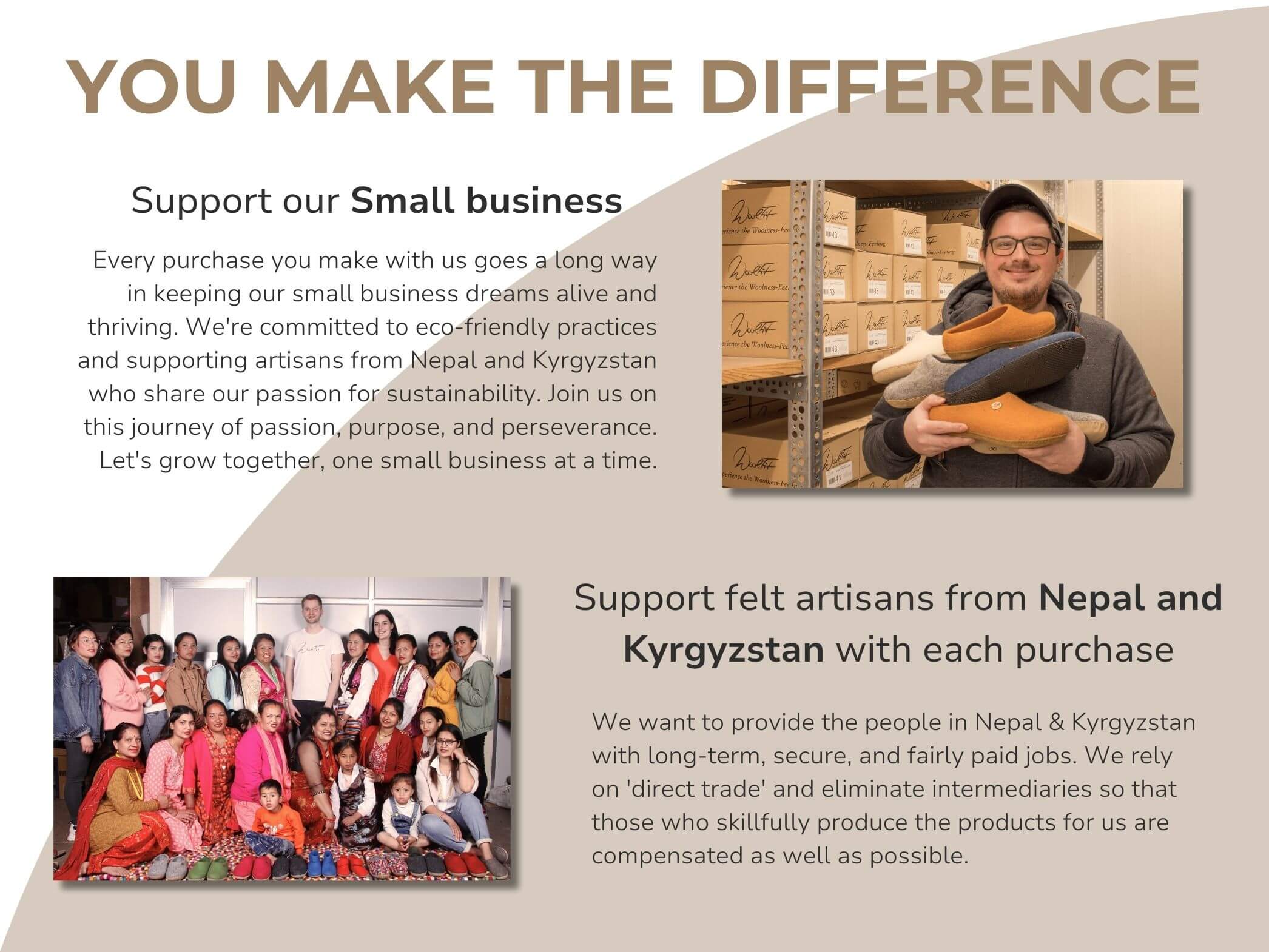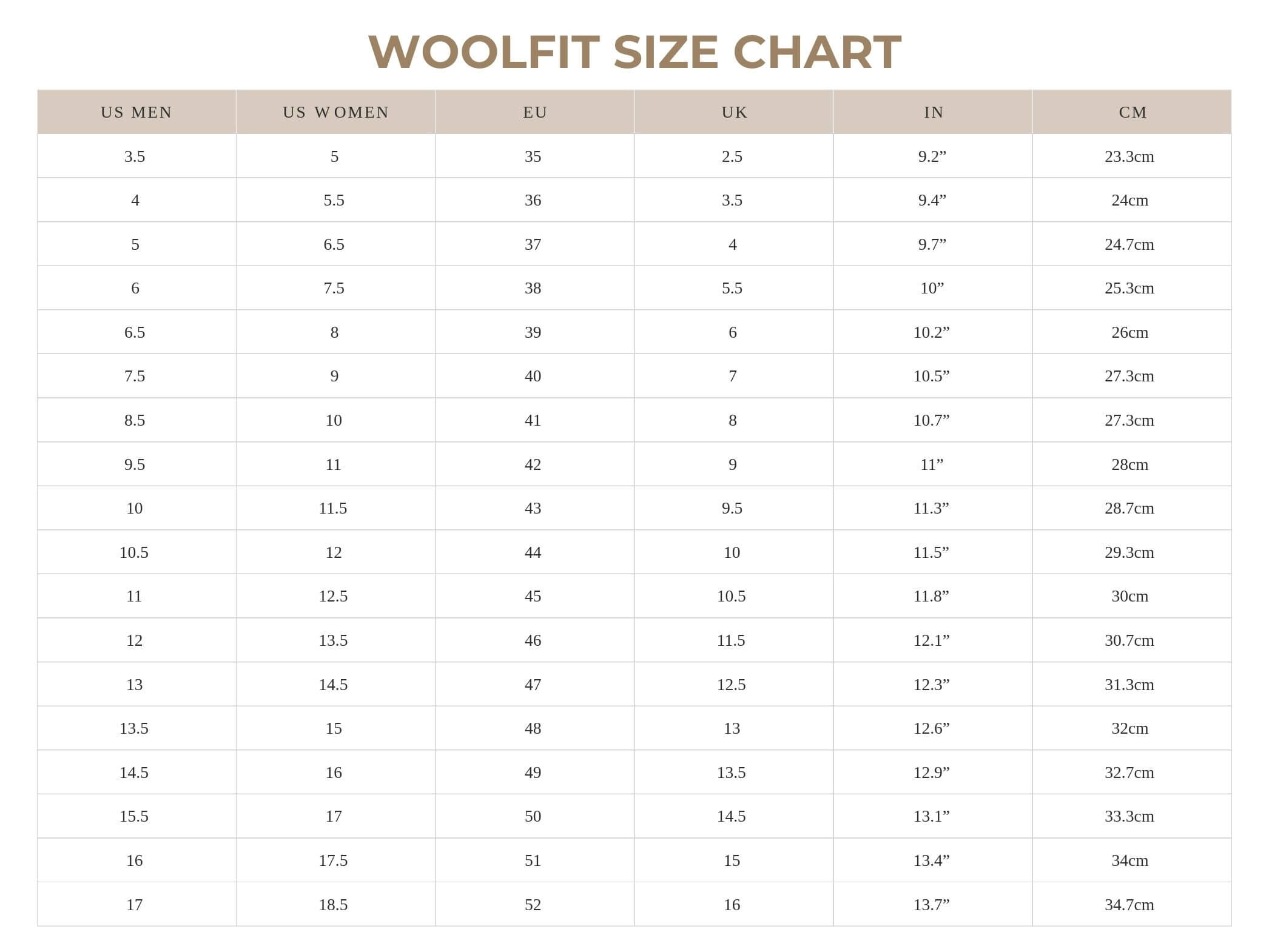 Tibet
Guest Slippers with Leather Sole
100% wool felt: warm, yet breathable.
Leather outsole: light, sturdy & flexible.
Extra lightweight & space-saving design.
Arch support: No arch support
This is why you'll LOVE them too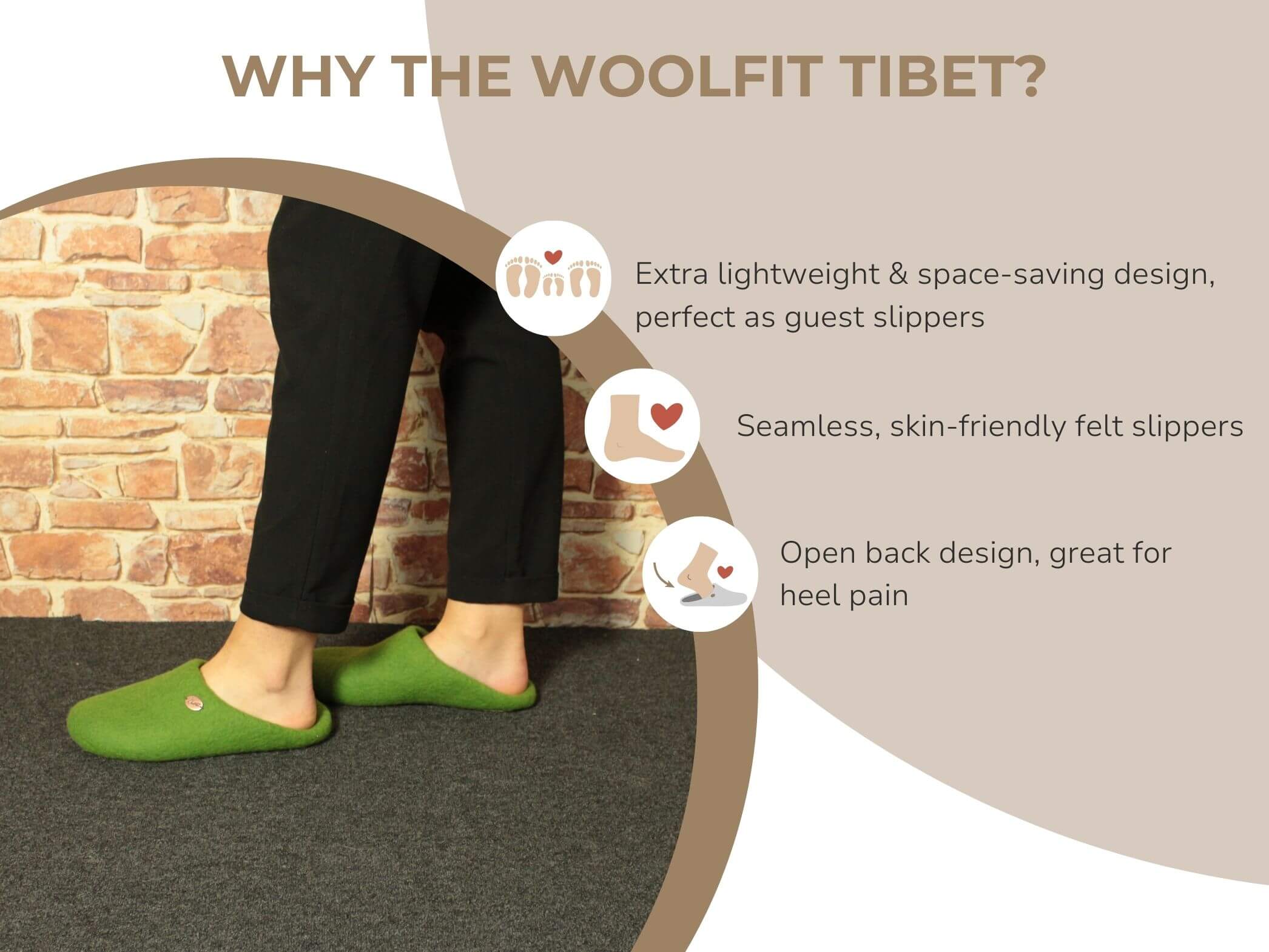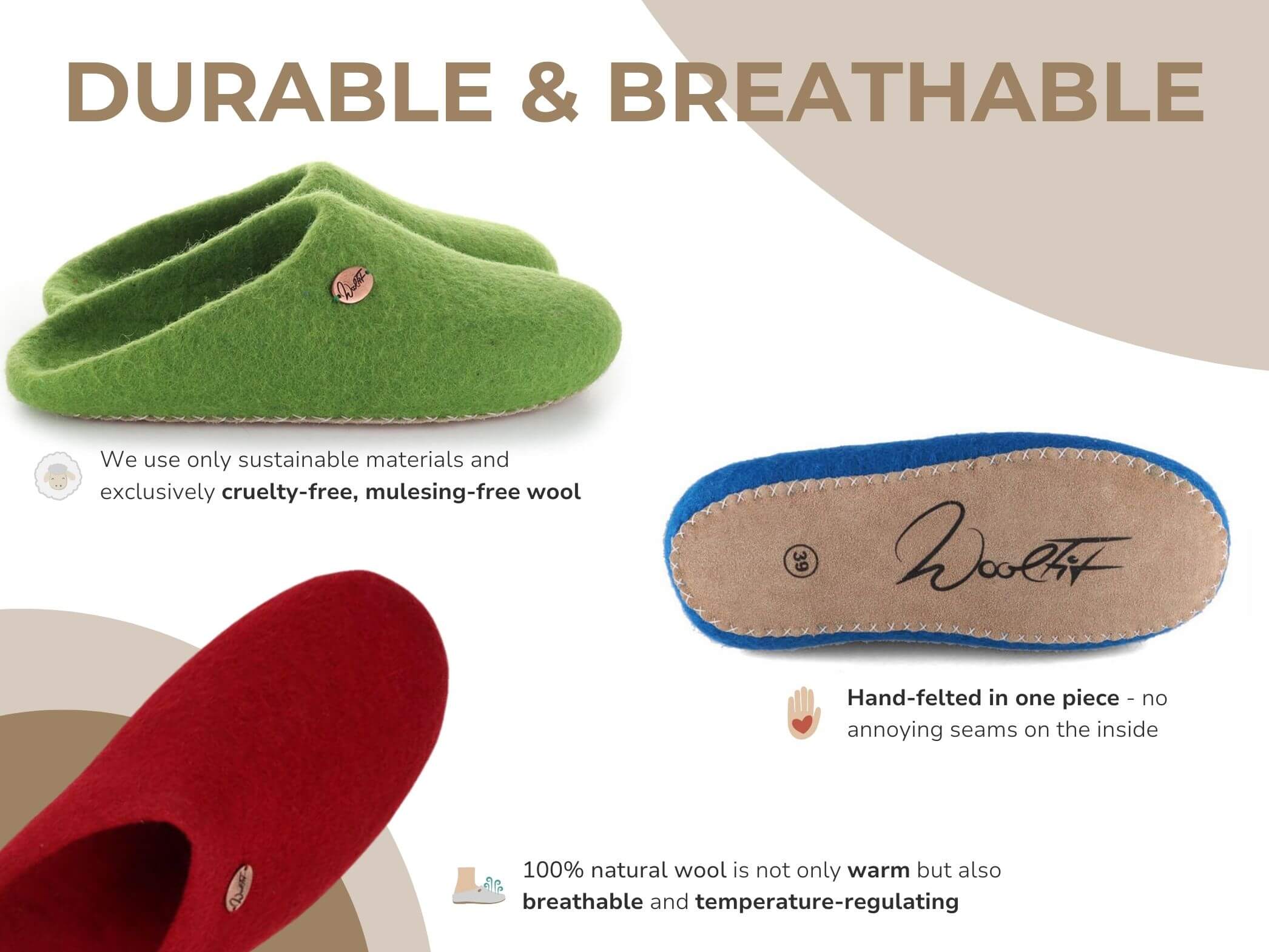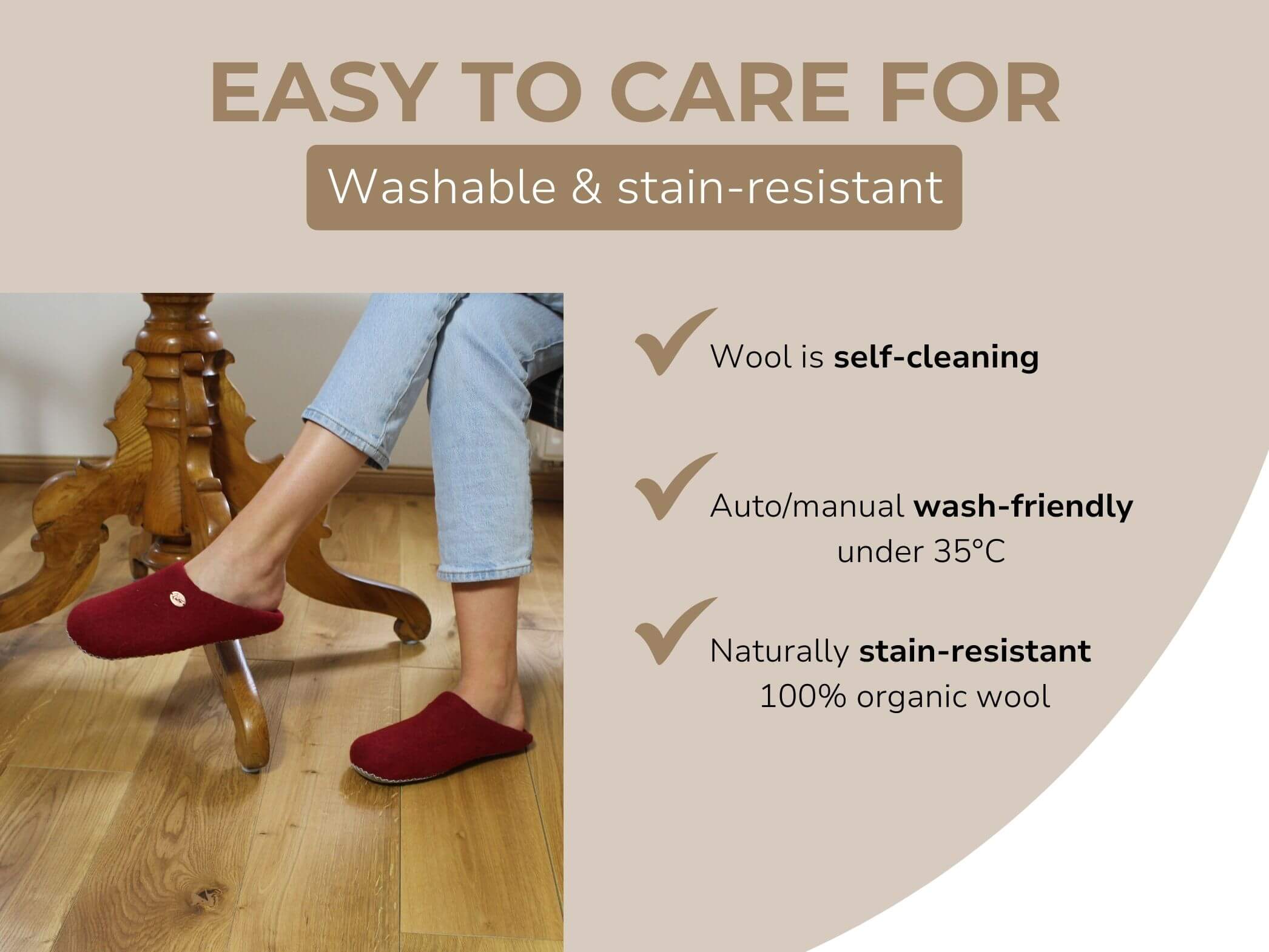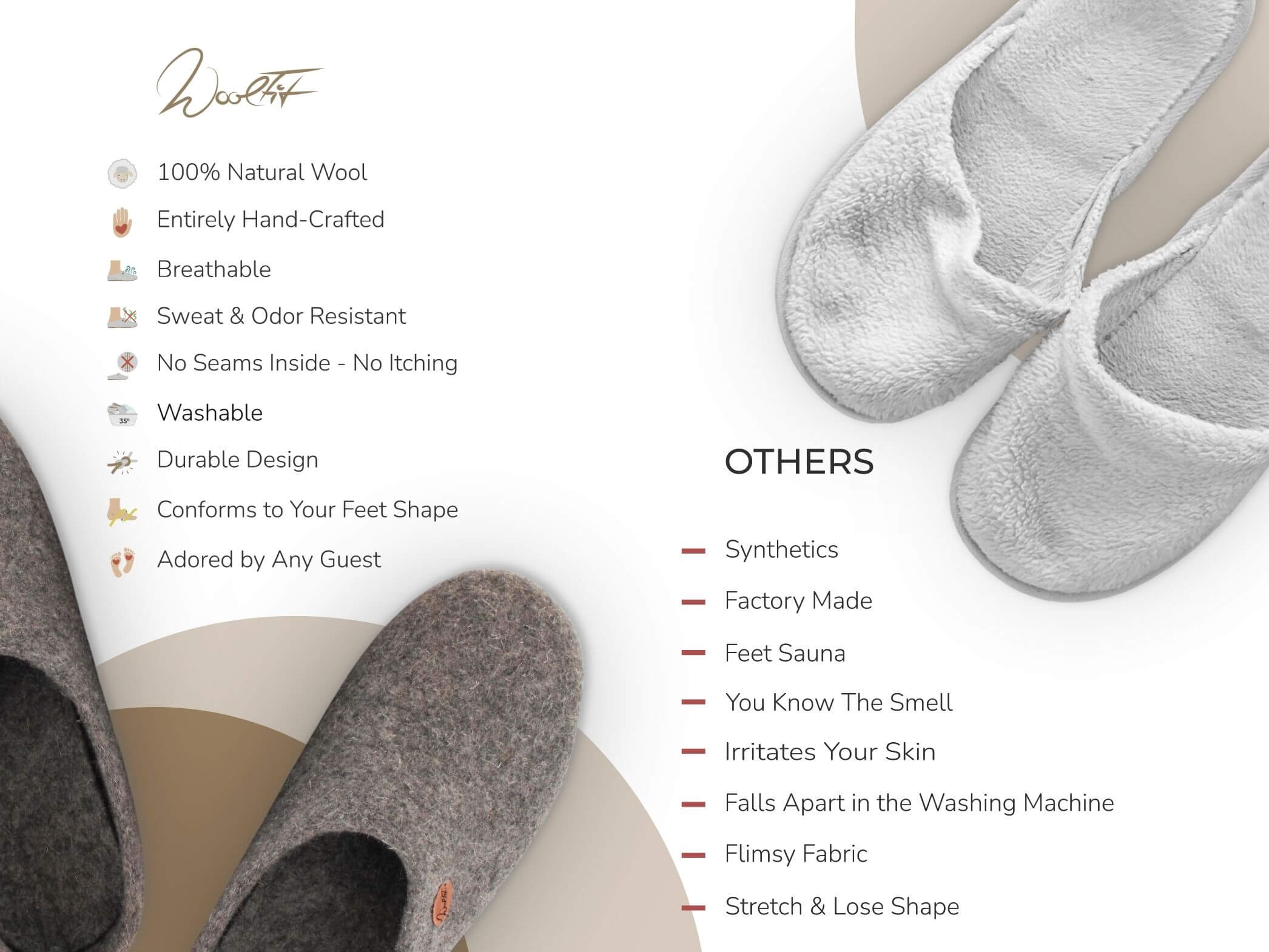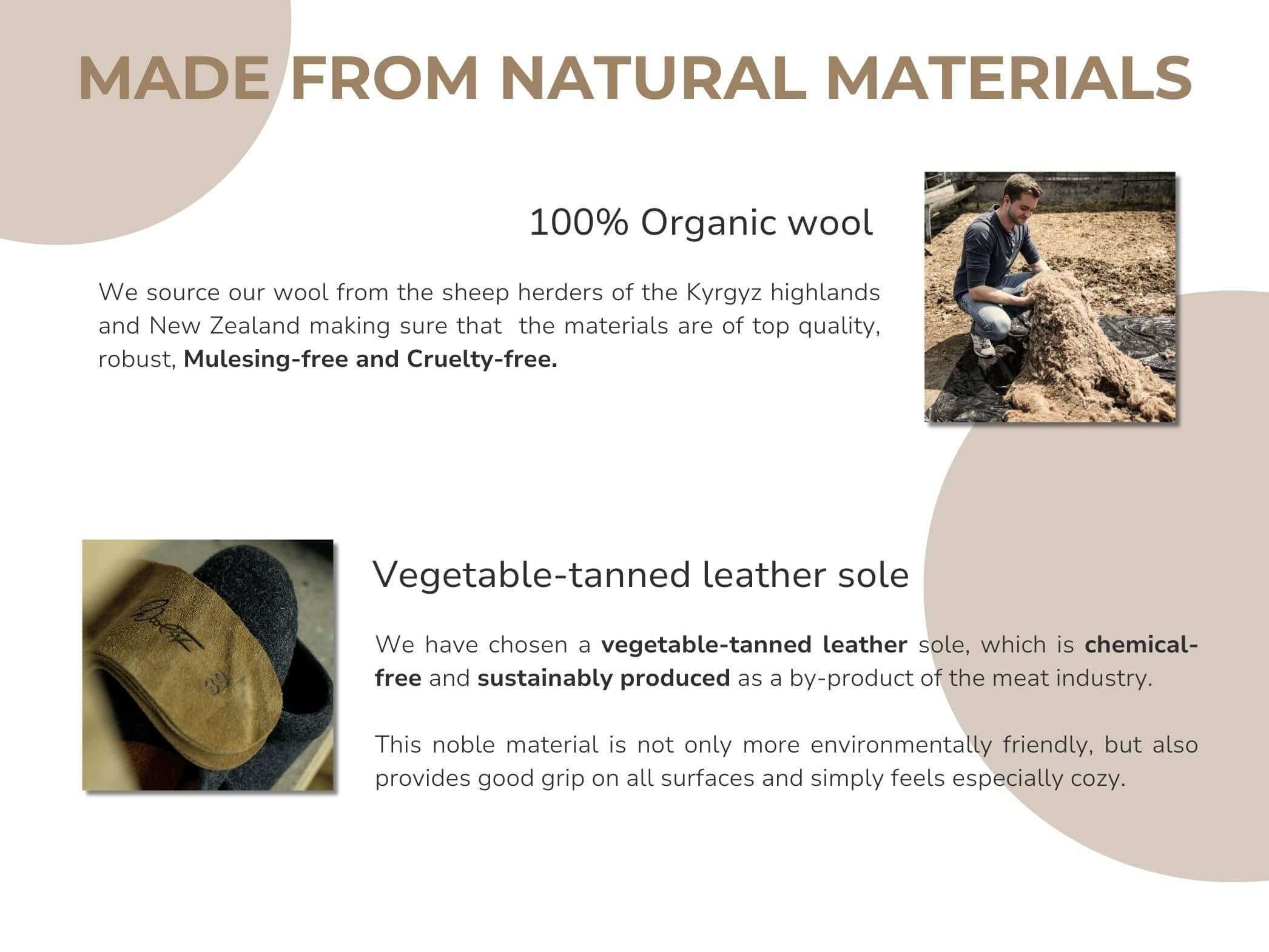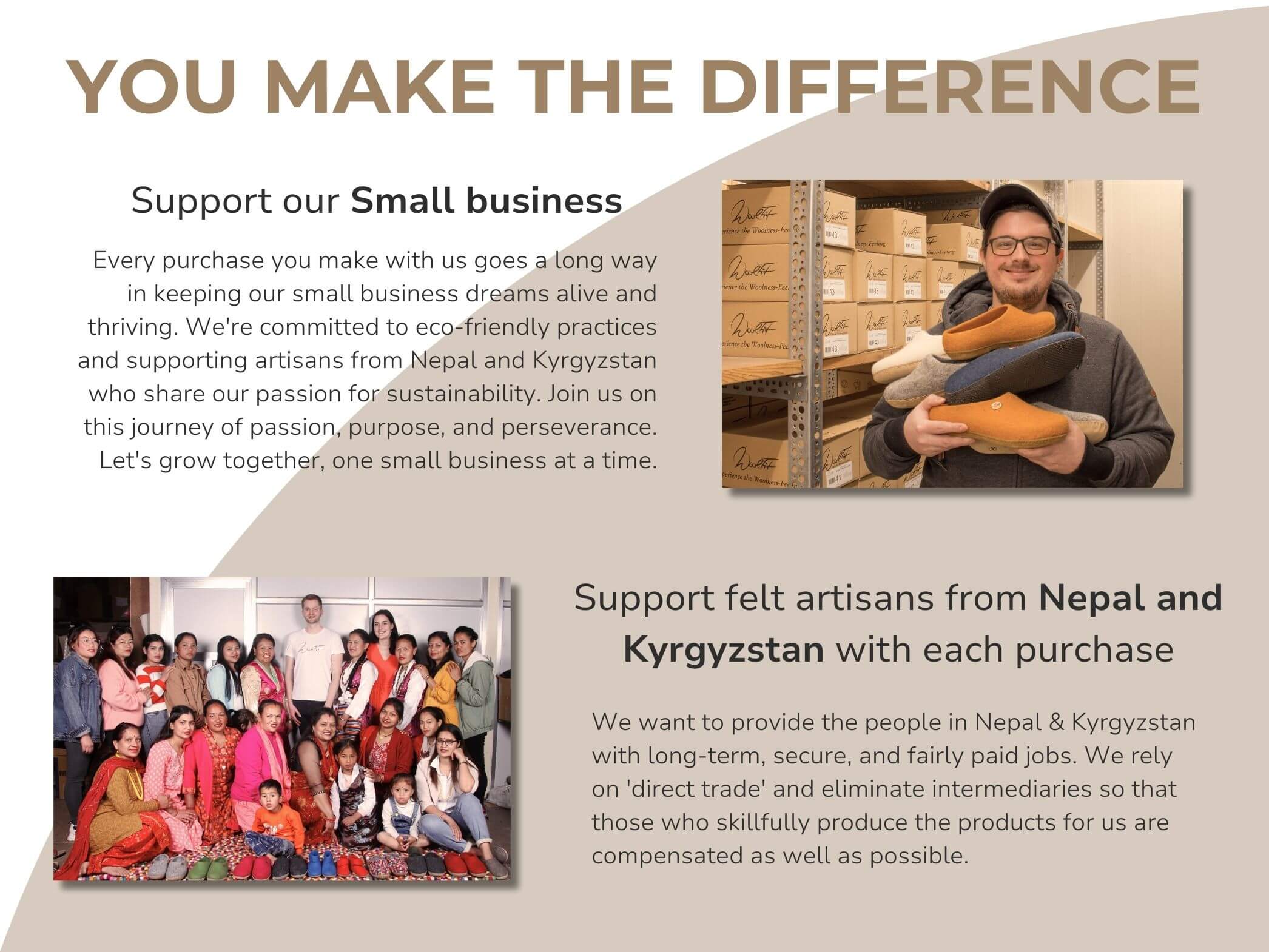 Open-back guest slippers made of soft felt
Seamless felt slippers for easy slip-on
Hand-felted from 100% virgin wool
Extra-soft wool from the undercoat
Natural temperature regulation
Extremely lightweight
Durable, flexible goat leather sole
Great for heel pain relief
Developed on customer request:
At the start of WoolFit, we opened a small pop-up store at the Goslar Christmas market and collected valuable feedback. Our finding: Surprisingly, many customers wanted a felt slipper without a heel back. "I always step on it anyway" and "it hurts my sensitive heels" were common statements.
Felting by hand allows for a particularly stable and high-quality slipper to be produced without a heel back. This slipper has little in common with a typical guest slipper but has the great advantage of fitting people with (too) large or (too) small feet without any problem due to its open design. In our opinion, this makes it the best guest slipper on the market.
Ideal for summer or underfloor heating
The open design also ensures that excess heat can be released even better. This makes the Tibet slipper ideal for summer or underfloor heating and brings the addictive soft foot feeling of our WoolFits for every occasion.
Extra-soft felt from the undercoat
The upper material is made of pure wool felt, which is hand-felted from the particularly soft undercoat wool. This makes our Tibet slipper feel cuddly and comfortable even when worn barefoot, even for sensitive skin. As a natural material without artificial fibers, it keeps your feet warm without making them too hot or sweaty. Its breathable and temperature-regulating effect ensures that heat and moisture are absorbed and released to the outside air even after prolonged wearing. Since the shaft is felted in one piece by hand, there are no annoying seams on the inside.
Extremely lightweight and easy to slip on
The Tibet model has no heel back and is completely open at the back. This allows you to quickly and comfortably put on the slippers while standing up without having to bend down. Therefore, these slippers are also ideal for knee or back problems. Due to their lightweight and easy handling, they are also perfect as guest or travel slippers.
Soft yet durable leather sole
The Tibet slipper sole is made of goat leather. Leather soles have the advantage that they are very robust despite their flexibility and low weight. This ensures that even with high durability, natural, unrestricted movement and a light-footed feeling are possible. To increase durability, we sew and glue the sole.
Fairly produced without plastic
We place great importance on a sustainable, completely plastic-free production with fair working conditions. Therefore, we only use natural, biodegradable materials. The wool comes from sheep herders in the region of the production site, and nothing but water and a little soap is needed for felting. The slippers are made by our Nepalese felt artists, who developed the products together with us. We pay close attention to ensuring that their skilled and traditional craftsmanship is appropriately compensated, far beyond the Nepalese standard.
Thus, we aim for maximum sustainability while supporting developing countries, and we look forward to welcoming you as part of the WoolFit family.